LATEST NEWS
AuroraWatch was named the winner of the 2013 ASTech award for Excellence in Science...

Semiconductor - the artist duo Ruth Jarman and Joe Gerhardt explore, through moving image works,...
Listen to Spectra!
You can now listen to spectra obtained by the CARISMA induction coil magnetometers. Listen to the tweets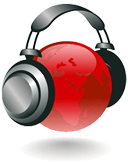 of EMIC waves, the rumbles of substorms and more of the ionosphere's greatest hits! Find the audio in our CARISMA data section.