LATEST NEWS
Semiconductor - the artist duo Ruth Jarman and Joe Gerhardt explore, through moving image works,...

ICM Power spectra availability will be reduced during 14-15 Jan 2013. This is to implement...
Listen to Spectra!
You can now listen to spectra obtained by the CARISMA induction coil magnetometers. Listen to the tweets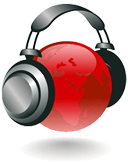 of EMIC waves, the rumbles of substorms and more of the ionosphere's greatest hits! Find the audio in our CARISMA data section.